Decorators-Delight Guarantee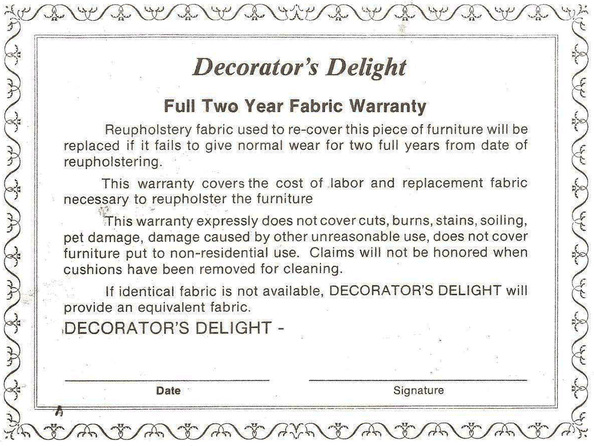 Upholstery Journal
June-July 2005
by Robert W. Nelson

#1 - In an era of increasingly questionable American workmanship, upholstery is an industry that stands apart. While there certainly are fly-by-night upholstery shops, they never last. True upholsterers - who are also true artists - know that putting out great work is the only way to stay in business.

#2 - Many shop owners just use a verbal agreement. When upholsterers have good reputations, they find that their track record of quality work is guarantee enough. Part and parcel of being a good businessperson is guaranteeing the work.

#3 - NorthEast - Communication is key - Tony Joseph, owner of Decorator's Delight Upholstery, Westport, Mass., does furniture work exclusively, and says he used an industry standard when devising his guarantees on fabrics.

#4 - Tony Joseph offers separate guarantees on materials and labor with his furniture work.